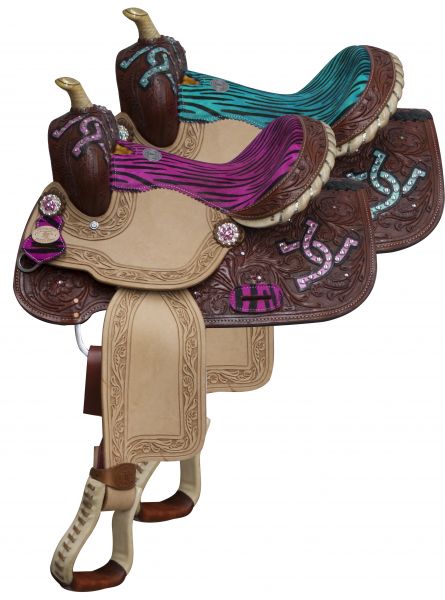 13" Double T Youth Barrel Saddle With Zebra Print Seat #511413
🚚 Order within the next
0 Day(s),

2 hours, 15 minutes

, 27 seconds
for delivery by
01 Dec, 2023
.
01 Dec.
Estimated arrival
29-30 Nov.
Order dispatches
13" Double T Barrel style saddle
Hair on zebra print seat and accents
Medium oil basketweave tooling on skirts, pommel, and cantle
Floral tooling on skirts
Double horseshoe design on pommel and skirts
Rough-out fenders and jockies with floral tooled border
Silver-laced rawhide cantle for extra flair
Combines style and functionality in one unique package
Introducing our stunning 13" Double T Barrel style saddle, featuring a unique hair on zebra print seat and accents. The medium oil basketweave tooling on the skirts, pommel, and cantle adds a classic western touch, while the floral tooling on the skirts adds a touch of elegance. The double horseshoe design on the pommel and skirts adds a unique design element. The rough-out fenders and jockies are accented with a floral tooled border for added visual interest. The silver-laced rawhide cantle adds the final touch of flair to this one-of-a-kind saddle. Perfect for riders looking for a combination of style and functionality.
Return Policy: Don't love it? Return your order hassle free within 30 days!
Saddle Type:
Gullet Measurement : 6"
Swell Size:11"
Tree Type: Lightweight Fiberglass Covered Wood
Cantle Height: 3.5"
Horn Size: 2.5
Stirrups Maximum Length: "
Stirrup Minimum Length: "
Skirt Length: 23"
Skirt Width: 12"
Seat Material: Hair On Print
Weight: 17lbs.
Seat Color:
Let customers speak for us
Where do these saddles come from?
Double T Saddlery
Our Double T Saddles come from a company in North Carolina. It is another family run business that has been operating since 1987.
why buy one of these saddles?
Why Double T?
The niche that Double T Saddles fit into is an affordable western saddle that is still pretty good quality. These saddles are still handmade with the best budget materials available and the designs maintain a very pretty looking saddle. These won't be comparable to a $3,000 saddle but they aren't supposed to be. This is for a budget friendly option that still provides a lot of value in quality and beauty.
Shipping & Delivery
Shipping anywhere in the United States costs $12.99 for USPS service and $14.99 for FedEx. You can select your preferred choice at checkout.
Orders of $100 or more automatically receive free shipping!
When your item is shipped you will receive an email letting you know along with your Tracking Number.
If you'd like to track an existing order you can do that at the link below.
For orders shippping to the United States and Under $100
USPS $12.99
FedEx $14.99
For orders over $100 shipping to the United States
FREE
International Orders
Shipping fees are calcuated at checkout
If you are ordering something large like a Saddle, No. Large items must ship freight and they will not be accepted for delivery at your P.O. Box and may cause delays.
Please provide a physical mailing address for orders to ensure there are no delays with delivery issues.
It depends where you are however...
50% of our orders are delivered in 1-3 Business days.
The other 50% are delivered in 4-7 Business days.
We promise we are working as hard and fast as we can to get your products in your hands!
Returns & Orders
To start a return simply send an email to admin@texansaddles.com
If you item arrived defective or damaged please include a photo as that expedites the return process.
We do accept returns within 15 days of the date you received the product. For return instructions and additional details, contact us via email at admin@texansaddles.com
You can read the full details of our Return & Refund Policy here.
Transferring money back to you for a refund can sometimes take multiple business days as banks move very slowly.
If you are waiting to receive your refund money or have any questions please contact us via email at admin@texansaddles.com
We Accept
Visa
Mastercard
American Express
Discover
Shop Pay
Paypal
Amazon Pay
Apple Pay
Google Pay
Facebook Pay
You can find all these options available at checkout
If you'd like to cancel your order please email admin@texansaddles.com as soon as possible. In order to successfully cancel your order it must not be processed yet so act quickly!
Warranty
On Western and English saddles there is a 5 year warranty on the Tree of the saddle. This is covered in regular use of the saddle.
For certain Roping Saddles there is an additional manufacturers warranty related to roping.
It does not cover damages due to commercial, misuse accidental, or alteration.
If you have any further question regarding the warranty please email admin@texansaddles.com